Ladies and Gentlemen
Hello Ladies and Gentlemen!
Mostly speaking to ladies at the moment, but I'm sure we don't mind the gents listening in 🙂 So… you're reading my blog. That's awesome! Why don't you comment? I'd appreciate hearing your thoughts, and frankly I'm sure the men here are sick of it just being *me* blabbing all the time. I'll even be nice and not block your website link if you include it, although I do reserve the right to ogle the pictures of any girls that invite me to view their sites, lol. I know you're checking in here, as I'm a bit of a statistics freak and check up on who's looking at my site often. Does that make me weird? Anyway, it would make me feel significantly *less* weird if you said something here.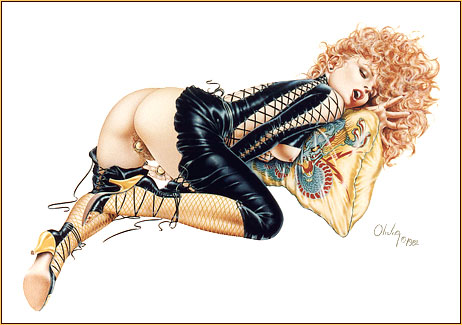 And while you're here girls, I have a question… and a little background to it. I'm sure it comes as no surprise that I enjoy sex (and I'm sure you do to, or else what are we doing here? lol), and when I'm not actually having sex, I'm often thinking somewhere in my mind about how I can manage to have better sex. My trips to the gym are not quite as consistent as I'd like, but I can say that I haven't skipped a day of kegels in a very, very long time, and have been doing them regularly since I found The Joy of Sex in the family bookshelf well over a decade ago. After getting a bit bored with simple isometrics, I moved up to weighted balls (I like the ones with the bells!), but I'm ready to add a little extra stimulation to my workout regimen. So the question is, which girly gadget should I get?
The one that originally raised the question in my mind was this one – I love to see improvement. Progressive resistance! People seem to like it an awful lot, both physicians and us kinky freaks here that just enjoy playing doctor. But… it looks scary. Uncomfortably scary. I'm very particular about the seamlessness of my toys, and this thing has got a scissor hinge on it. My pussy may be tempting, but I'm certainly not going to tempt fate with it! The second, and much smoother piece of sexercise equipment I was looking at is this one – which is pretty neat because it let's you measure how much pressure you're pulling on any given day. I can already imagine spreadsheets and graphs to track my feminine fitness… but, unless I missed something in the product description (and google the toy's name if you want to see more reviews on it) there's no way for me manually set the resistance? What if I want to push myself up to the next level? Other than the boasting power of the pressure gauge, I really don't see how this device could be more effective than a set of steel ball bearings.
If you have any experience with either of those two toys, or maybe know something else that might pique my interest, I'd love to know! Pictorials are much appreciated 🙂
Beyond that, I hope you're all enjoying yourselves! Fall seems to have rushed in a bit early 🙁 I hope this doesn't interfere with my hiking plans! Still, there are things to look forward to in this fine season – crisp apples, colorful leaves, and thigh high leather boots. Yay! I am still enjoying my favorite pair, from Frederick's of all places. Who knew a 5″ heel could be so comfortable? I've made a promise to my closet not to buy any more shoes until I've worn every other pair I own (and fyi – wearing them in the bedroom doesn't count! Most of my collection has never seen an actual sidewalk or street, it's a shame) but these might make me try to renegotiate my own terms… or just go out a little more. Perhaps one of you fine gentlemen could help me stay on my closet's good side by accompanying me out for an evening? I'm always in the mood for a little art appreciation…
~Mme X~

Melissa Lauren Gets That Pussy Examined brought to you by PornHub
Tags: toys